Kittensitting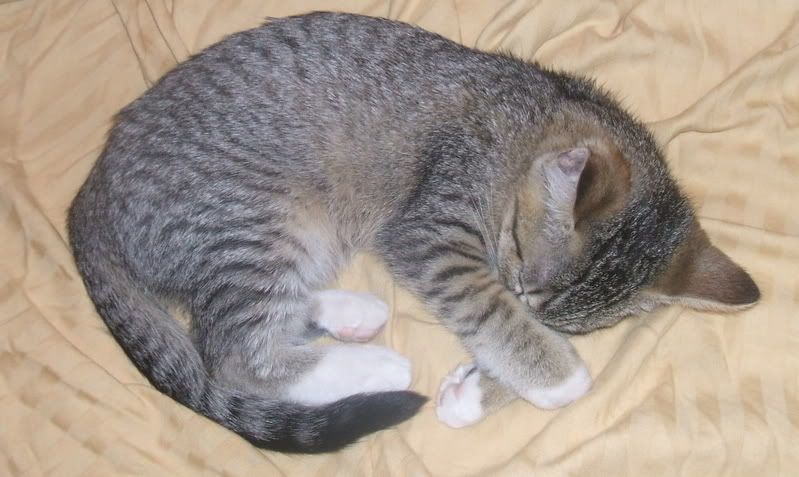 Do I even need to tell you how totally pissed my four cats are?
This kitten is a visitor. A
visitor.
We are taking care of it for two weeks while its owner, a school friend of Katie's, is visiting her large-dog-owning dad and her mom is out of town.
Somewhat alarming, though, is the fact that the kitten does not have a name, and according to Katie, we've been invited to give it one. Also, Katie's friend appeared to believe that it was a boy kitten, when in fact it is a girl.
Let me tell you something about that. You can tell by lifting up a kitten's tail, and if what you see looks like this ¡ then you've got a girl kitten. If it looks like this : then you've got a boy. Easy, right? Don't try it on state employees.
So I hope nobody's trying to pull a fast one on me, because I need a fifth cat about like I need a 27th hole in my head. It's bad enough with the four. Whenever I go to take out the garbage or check the mail or do the laundry, I have this sort of Oort cloud of loosely orbiting cats trailing me around the apartment complex. It's kind of obvious. When we moved in, I told the landlord we only had two. I kind of suspect he's noticed that's only half right.
But ooooh, she is cute. Last night she knocked a potted plant over into some electronics and dug a small hole in the nape of my neck. She tries to nurse on my son's finger. She wanted to eat the dirty laundry, and I for one would have let her. This morning, sharpening her claws on the rug, she was so enthusiastic that her whole little body was bouncing up into the air. She keeps jumping up on the table and attempting to eat people's dinner. Cute!
My cats are
so
pissed.