New Frontiers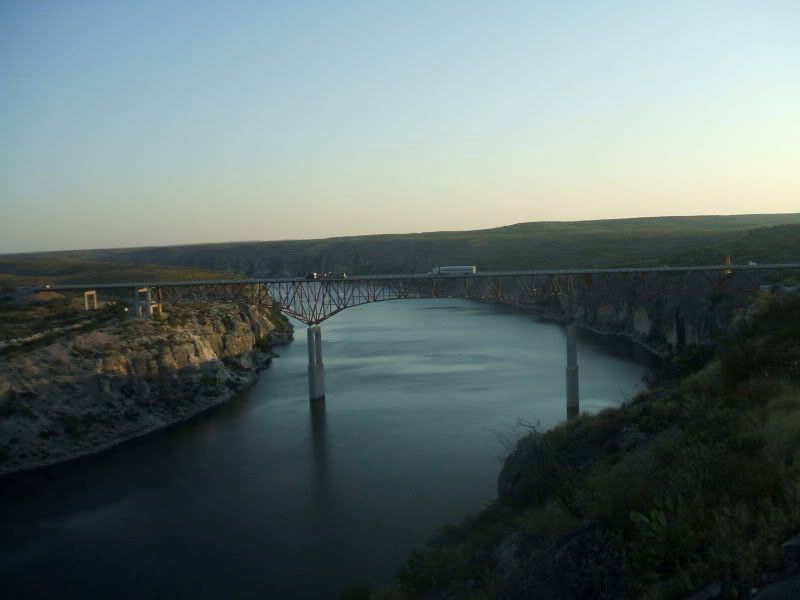 It's a really good thing the Ford Escapes in the state fleet have an auxiliary jack you can plug your iPod into. Otherwise I would have had to sing a capella.
I would also otherwise have had Barry Manilow stuck in my head for 723 miles. Or, say, 690 miles - because somewhere between Dripping Springs and Fredericksburg, I passed a sign for a ranch advertising "Showgoats." Some people are just sick.
This week's was my first solo outing for the state: my boss, who was supposed to accompany me, had something come up at the last minute. So I headed out to inspect the visitor center in Langtry all by myself. It's a long way, but a wonderful drive if you enjoy that sort of thing (what luck - I do!). I took the scenic route to Langtry: out 290 through Fredericksburg to I-10 to Junction, where I got lost. First of all, the exit sign for US 377 just says "North" - I guess on the grounds that nobody really wants to go south anyway. So I kept driving west, assuming that the southbound exit came later.
But it was soon apparent - luckily soon, because otherwise I'd have found myself in Sonora - that this was not the case, so I exited, turned around, backtracked, exited again in Junction, headed south on 377, and found a gas station, where I discovered that I don't know how to use the state card provided with the vehicle. (I've always gassed up at a District office.) Ten hilarious minutes during which I thought I'd be stranded forever in Kimble County, an amused convenience store clerk, and a few panicked phone calls later, I got it figured out, but this only enabled me to get lost some more. You have to make a right turn in Junction to stay on 377, otherwise you end up on Loop 481 which eventually deposits you, wailing curses, right back onto I-10 heading east. So be careful!
Eventually I found my highway. US 377 south of Junction looks like an FM (that's Farm-to-Market road, for you non-Texans) - a little two-lane affair with a yellow stripe down the middle and narrow shoulders. The speed limit is 75. Way too fast, way too fast for this road! I thought. An hour later I found myself doing ninety.
When you reach US 90, you turn left to go to Del Rio - and you're pretty much there, just on the west side of town - but you turn right to go to Langtry. Langtry is unincorporated. Although the 2000 census gave its population as 150, it's declined in recent years; and one of my coworkers in the visitor center guessed the current population is around 19.
"What do you do for entertainment way out here?" another coworker said she was asked by a visitor. She laughed. "Heck, when you're my age, a muumuu and an easy chair are all the entertainment you need!"
The US 90 drive from Del Rio to Langtry takes you across the Amistad Reservoir - blue and beautiful in a stark landscape of scrubby brownish-green - through Comstock (don't blink!), and a border control checkpoint (I wasn't the droids they were looking for, and was immediately waved along), through large, lumpy hills with a sparse growth of brush, and across Seminole Canyon and the Pecos River - the US 90 span across it is the tallest bridge in Texas, and the third highest in the United States.
Langtry
is on the west side of the Pecos, as anyone familiar with Judge Roy Bean will be aware. The scenery is breathtaking and desolate, not readily captured with the least expensive digital camera money could buy, and the road was virtually empty except for the occasional 18-wheeler, border patrols, and vultures swooping down to pick at the pulped remains of a skunk on the pavement, identiable only by the smell - waiting until the last instant to wing out of the way of the speeding car, flapping away within inches of my windshield. If you don't set your cruise control, you glance down and realize you're doing 100.
Del Rio was not much of an adventure, since (1) I was incredibly tired by the time I got to my hotel room, and (2) going out on the (border) town alone might not be the best idea for a woman in my, um, position. So I picked up dinner, took it to my room, and slept until 5:30 - needing to be back in Langtry by 8am to finish the inspection, wrap up, and make it to Austin for Diane's retirement reception back at work. I drove like - like a state employee out of Langtry. And I made it in time, too.
I love my job. And I love, love, love my iPod!
Click here for photos.